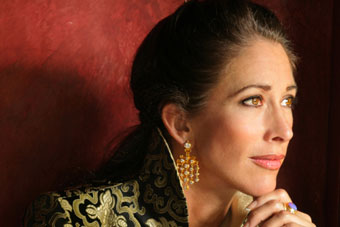 Carolyn Tyler's mission is to bring beauty and value to your world through her unique jewelry designs. We hope you enjoy your shopping experience! Feel free to send any commentary through our contact page.
Ethical Practices/Disclosure
The gemstones and pearls used in Carolyn Tyler Jewelry are natural (i.e.: no synthetic, man-made gems), but some stones have been heat-treated to enhance their color. Other enhancements, such as diffusion and beryllium treatment (especially of colored sapphire and diamond), and dyeing (as with certain freshwater pearls) will be mentioned in the text.
All ancient coins, artifacts, and fossils are original and authentic unless otherwise described.
Socially Conscious
To keep prices reasonable and avoid support of the diamond trade, Carolyn Tyler Jewelry uses gem-quality natural white Zircon (mined in Vietnam and Cambodia), which has a refractive index similar to diamond, giving it a nearly identical brilliance (zircon should not be confused with the diamond simulant Cubic Zirconium). White sapphire is also used instead of diamond. Where a design requires diamond, Ms. Tyler strives to use Australian or Canadian stones, antique old mine cut, rose cut, or recycled diamonds from estate pieces rather than support new African diamond mining and potentially unscrupulous diamond trading.
Enjoy your Carolyn Tyler Designs!

Originality and Authenticity
Unless otherwise stated, all designs are original and are rendered in 22k gold, bearing the karat stamp (22k is 93% pure gold, 18k is 75% pure gold). The country-of-origin stamp and Maker's Mark, as well as its unique serial number are also inscribed onto every piece. All designs have been registered with the US patent office and are copyrighted.
Environmentally Conscious
We support the Environmental Movement's efforts to reduce the detrimental impact of gold mining. Carolyn Tyler Jewelry is made from 100% recycled ("green") gold—no newly mined gold is used in these designs.